College Graduation Rates – As Big a Problem as College Access?
For the past 50 years we have seen a focus on the need to improve high school graduation rates. During the majority of that period, post-secondary education received a pass.
Simply stated, there was a perception that American higher education represented the best the world had to offer. That perception was greatly enhanced by the volume of foreign students seeking the opportunity to be educated here.
But over the last ten years we have seen a push towards holding higher education accountable for its product. In one of those areas, graduation rates, it is clear that American Universities are falling short, abysmally so.

College Graduation Rates
Here are the attention-getting numbers courtesy of the Department of Education (pdf) based on data collected through 2008:
At public colleges and universities only 29.0% of students graduate in the traditional four-year time frame. Even when the Historically Black Colleges are factored out, the rate climbs only to 30.3%.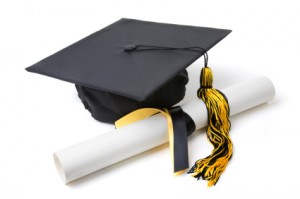 Of course, the timeframe most used to discuss graduation rates is the six-year window. This timeframe appears to be used because here graduation rates pick up substantially. At public schools the percentage of students that graduate within six years nearly doubles to 54.7%.
Given even more time, the percentage of students who graduate does increase to 58.3% if we measure the period over 8 years. This minimal increase is dismal when weighed against the cost of two additional years of college.
One might think those more expensive private, non-profit schools would have significantly better numbers. They do in fact have better numbers but given their overall selectivity the rates continue to be extremely disappointing.
Over the four-year timeframe, we see that private schools graduate 50.4% of their students, a number that nearly mirrors the six-year of public institutions. But in this sector, an additional 2 years yields just a 14.2% increase in the grad rate and an additional 4 years yields only a total rate of 66.4%. Here again, once one moves beyond six years, very few additional students finish.
Where the numbers really disintegrate is when we move to the for-profit industry. Like public colleges and universities, the for-profits struggle to graduate their students in the four-year timeframe as only 26.8% earn their sheepskin in four years. While most would insist that for-profits are geared towards part-time, working students, the study looks only at those individuals who started as full time students.
But whereas public schools see a massive bump when the time period is extended to six years, for profits see very little gain. Just 33.9% earn a diploma in six years and 37.7% when given eight years.
Abysmal Results
If we move from percentages to simple assessments we find the following:
If you take any three students attending a public college, you can expect that two of the three will not earn that diploma in the four-year period. Furthermore, just one of every two students will graduate in six years. Even at private colleges, roughly one of every two students fails to earn his or her diploma in four years.
And unlike American high schools, every one of these institutions has some form of entrance criteria and application process. In fact, the highly selective private sector college admission criteria fly in the face of these final graduation statistics.
College is a very expensive proposition for students and the costs associated with attending school are multiplied by every year of attendance. But the multiplication is astronomical for those who spend exorbitant sums of money and time only to come up empty when it comes to earning a diploma.
Some insist that college graduation rate data is not really that meaningful. After all, in America we want to provide every one opportunities and that is what colleges are doing, providing options. Under such a view, it is the students themselves and not the schools that are to blame for these poor results.
Of course, once upon a time that was the line given by public schools. Today, the federal government insists that schools educate all students or face sanctions under the No Child Left Behind Act.
It seems only right that colleges and universities be held to a similar standard, especially those schools that have entrance criteria and admissions policies that limit student access to their programs.